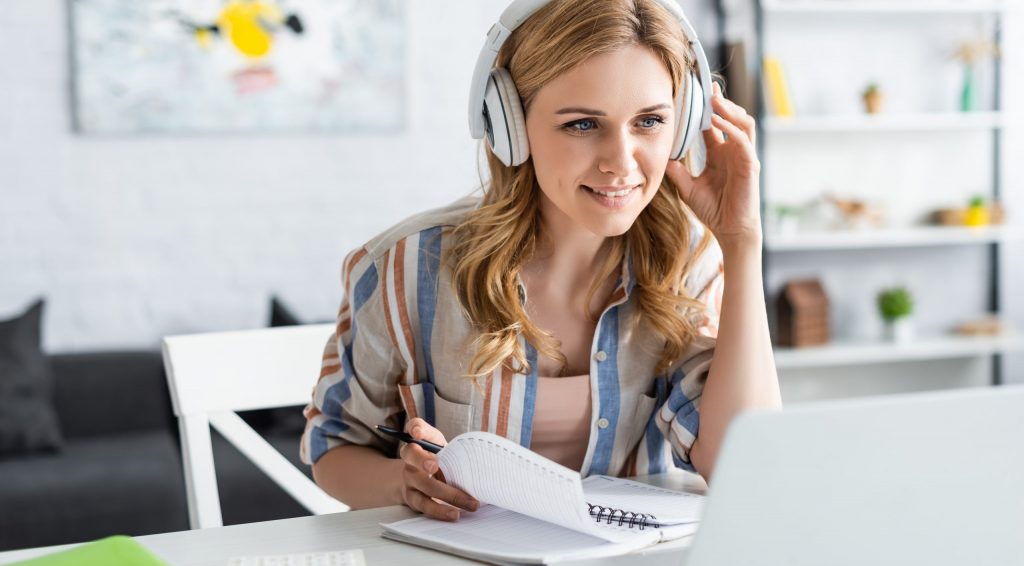 Our most popular IOSH training courses are available through eLearning or Virtual Learning. Attend your health and safety course from the comfort of your own home or office. Alternatively, spread your learning over a few weeks, studying a little each week to complete your course at times that fit in with your schedule.
Contents
What is Virtual Learning?
When attending a Virtual Learning course, you will be learning with a trainer and a few peers over a video chat platform like Zoom. This mimics our classroom courses, except you are not meeting in person to learn, and instead, you are learning from wherever you want to. As long as you have access to the internet and a tablet, laptop or computer, you can attend a virtual course. In virtual learning, trainers and delegates interact in real-time. There are many other features on the platforms that can be used by trainers to get delegates talking and interacting with the course material. For example, there are chat features on the platform, which are great for asking a question either to the group or privately to the trainer. You can vote for an answer to a question and be split out into small groups in chat rooms to complete an activity.
Our virtual courses follow the full syllabus, and you will gain the course qualification and official certificate from the awarding body just like the classroom-based course.
Due to how Virtual Learning is carried out, we can offer plenty of our courses through this training method. You can see a complete list of these at the bottom of this page.
Watch our What is Virtual Training? Video below to find out more about virtual training with Project Skills Solutions.
Benefits to learning via Virtual Training
Time and cost-efficient. With no travelling to a venue, you can attend the course from your own home or workplace. Saving you both time and money.
A real trainer will deliver your course in real-time, allowing you to interact similarly as a classroom course. Plus lots of new games and activities made possible by technology.
Free test calls to get you set up. One of our staff can guide you through getting set up to ensure no issues on the day – just ask and we are happy to help!
Collaborate with others on your course. With breakout rooms, your trainer will pair or group you with others who are training to work together to understand the topic further.
Online Assessments. From start to finish, you can complete the whole course virtually with assessments carried out through Microsoft Forms.
Make a cup of tea and have lunch during your course breaks in your own home or office! Attending training via zoom is incredibly convenient.
What is eLearning?
eLearning is another method of learning, with a focus on flexibility and independent learning. eLearning consists of logging in to the platform on any device like a PC, mobile or tablet and completing lessons and assessments on your own to complete the course. A course will be split into modules that you complete through reading the material, completing quizzes and activities to help you understand the lesson and prepare for the assessment. eLearning can be self-paced, which means that you can work through the course material at your own speed and look over lessons again if you need to. One of the major advantages is that you can spread your learning over several days. For example, if your commitments mean that you can only afford to learn a couple of hours in the evenings, then eLearning is a great option as it allows you to do this.
We have built a powerful eLearning platform to ensure that learning is easy, correct and impactful for all of our delegates, giving you the best chance at succeeding in your course.  Access support if you need it via our live chat or email.
Benefits to learning via eLearning
Learn anywhere, anytime! With eLearning, you can be as flexible as you'd like. You are learning in your own time, wherever you would like to.
It's cost-effective. On some occasions, you can save over 30% by learning via eLearning.
Start your learning immediately. You can start learning from the moment that you book, no need to wait to get stuck in!
Monitor your performance as you go. Our eLearning platform tells you the percentage of how far through you are, with feedback on how well you are doing.
Fully independent learning. Unlike our virtual or classroom-based learning, there are no other learners to distract you when taking our eLearning course.
Full support when needed. Our team are happy to help with any questions or queries you may have and will support you in any way that they can.
Current courses we offer via Virtual Learning
Current courses we offer via eLearning
If you have any questions regarding Virtual Learning or eLearning, use our live chat to talk directly to one of our staff. Alternatively, call us on 0800 0213 263.
We still offer to carry out most of our courses via our traditional classroom based learning or train staff directly on-site.
You can follow us on social media to keep up to date on any news to our eLearning platform here https://twitter.com/PSS_Training