The definition of a confined space means that they are more common than you might think. They might occur in some unexpected places – this is where a lot of people who do not have the appropriate training, find themselves in dangerous situations.
Understanding confined spaces: Definitions, Characteristics and Hazards
To start, let's define what constitutes a confined space. Generally, a confined space is an area that has limited means of entry and exit. This is important because spaces with limited entry and exit points can make it challenging to navigate when working and potentially hazardous. Examples can range from storage tanks, silos, and underground chambers to crawl spaces, tunnels, and even large machinery. It's crucial to recognise that confined spaces can exist across various industries, including construction, manufacturing and utilities.
As well as limited entry and exit points, these spaces often have restricted airflow, which can lead to the accumulation of hazardous gases, vapours, or lack of oxygen. Additionally, confined spaces may have limited visibility, making it difficult to detect potential dangers such as falling objects, entrapment hazards, or structural instability.
By understanding these characteristics, you can approach confined spaces with heightened caution and take appropriate precautions to ensure safety.
Low Risk Confined Space
Usually, low risk confined spaces have a shallow entry and have adequate natural or mechanical ventilation.
Access is simple and not obstructed
No likely risk of flooding
Medium Risk Confined Space
Vertical direct unobstructed access where someone is attached to a winch or hoist
When someone can not be permanently attached to a safety line (usually team entry on an unobstructed horizontal plane)
A realistic hazard of encountering a specific risk
The work to be undertaken will introduce a risk
High Risk Confined Space
Operations with additional risks
Specific controls needed
Complex rescue arrangements e.g. mechanical hazards
Deep or complex underground systems
Any record or structural doubts
History of atmospheric hazards
The lists above are not exhaustive
The definition of a confined space can change – you may go to site and reassess that a confined space is a higher risk than you thought and adjust your working accordingly.
A permit to work is required if once all the foreseeable hazards and risks have been considered, there is a significant risk to health if the person to carry out the work was to enter the space. Confined spaces are inherently dangerous, so some decide to apply a permit-to-work regardless. By using a permit-to-work system, all workers become aware of the risks and ensure that necessary measures have been taken to control hazards.
Staying Compliant
Staying compliant with confined spaces regulations in the UK is paramount to ensure the safety and well-being of workers. The Health and Safety at Work Act 1974 serves as that foundation, placing a legal duty on employers to provide a safe working environment – this includes when working in or around confined spaces.
Building on that foundation, the Confined Spaces Regulations 1997 provides specific requirements and guidelines for working in confined spaces.
It is crucial for employers to familiarise themselves with these regulations, conduct thorough risk assessments, implement control measures and provide adequate training for workers with regards to confined space.
Regular monitoring, inspections, and record-keeping are essential to maintain compliance.
Monitoring
Continuous observation and assessment to ensure the safety measures in place are doing their job e.g. checking atmospheric conditions.
Inspections
Carrying out periodic on-the-spot assessments, verifying safety protocols and identify and react to potential issues.
 Record-Keeping
Maintaining documents for all the activities: risk assessments, training records, permits-to-work, incident reports and equipment maintenance logs.
By prioritising compliance with confined spaces regulations, employers can protect their workforce, lessen risks, and prevent potential accidents and injuries.
The Consequences of Not Being Trained for Confined Space
Incidents involving confined spaces claim the lives of 15 people in the UK every year, according to the HSE.
IOSH state that deaths that occur in confined space are due to people not being able to recognise the confined space and its dangers, rescue attempts where untrained people enter the space and die trying to save those already trapped or injured and inadequate systems for safe working.
A permit-to-work ensures that there are adequate systems in place for working in confined space, which is why some choose to complete them as standard.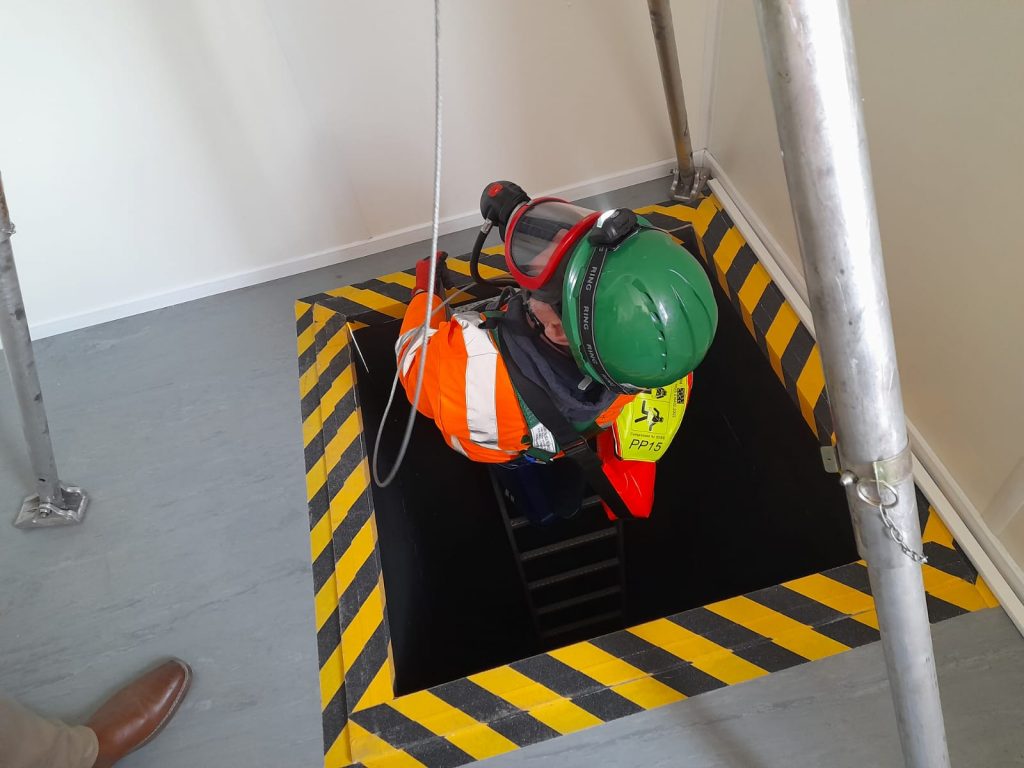 Confined Spaces Training Options
For those working in confined spaces, training is essential (or as part of the team) or on a site around confined spaces.
We offer training at different levels based on the type of confined space you are likely to encounter in your specific area of work.
Aimed at those who will be working around confined spaces or in charge of a site that contains confined spaces, not for those working in confined spaces.
For those who will actively work in low risk confined space – entry and exit is straight forward and has adequate ventilation.
This course targets individuals actively involved in working with medium-risk confined spaces, where the presence of hazards is reasonably foreseeable.
This course targets individuals actively involved in working with high-risk confined spaces, where they cannot control or eliminate identified risks, such as those with complex entry or exit points.
Project Skills Solutions Offer Confined Spaces Training in Surrey
We are pleased to offer Low and Medium Risk Confined Space training in Surrey. Not far from Gatwick Airport and the M23, it is only a 10 minute drive from the M25. The site is on 2.5 acres, which means plenty of room for the practical tests!
Surrey Working in Medium Risk Confined Spaces (Combined Entrant and Entry Controller) – CABWI Level 2 Award CS2-MRC
The CABWI Level 2 Award in Working in Medium Risk Confined Spaces (combined entrant and entry controller) allows learners to demonstrate the skills and knowledge required by those who need to work in medium risk confined spaces as part of their job role. It also allows learners to demonstrate the skills and knowledge required by those who need to work at medium risk confined spaces as part of their job role, but who are not required, or are unable, to enter and work in the confined space. Their role will involve acting as an entry controller (top person) on site for those entering the confined space.
Course Content
The dangers associated with confined space working
How to risk assess a confined space
How to classify a confined space
Roles and responsibilities
Different types of escape breathing apparatus
How to undertake pre-entry checks on equipment.
Correct and safe use of atmospheric monitoring equipment
The necessary staffing levels.
Why there is a need for periodic examinations of equipment
The emergency procedures when working in a confined space.
This training location also offer NRSWA Streetworks training and Smart Awards for telecoms.