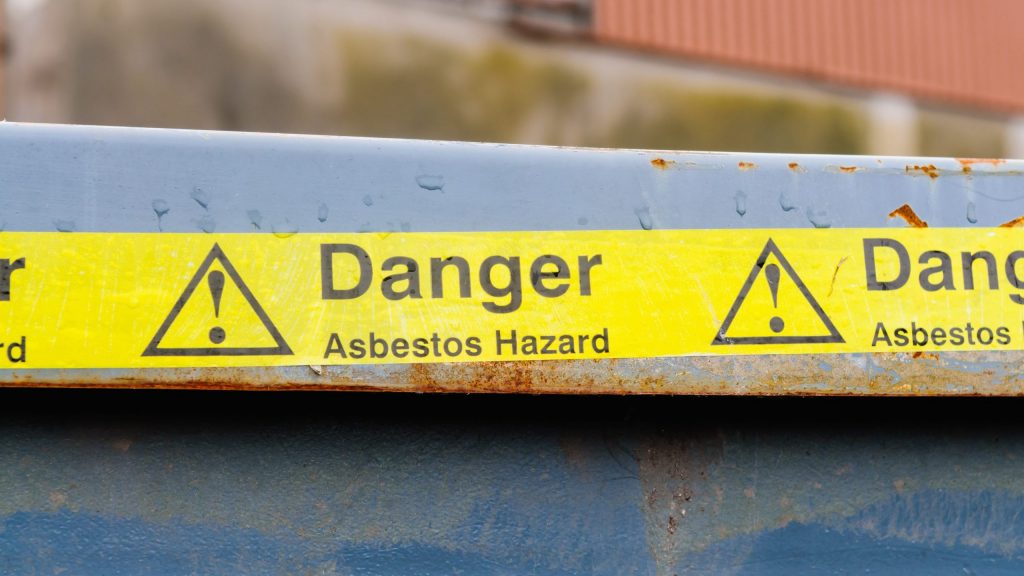 Asbestos awareness training helps those working in contact or associated with asbestos, by providing an understanding of the risks associated with it. The training also covers the dangers of working with asbestos and helps employers comply with the law by ensuring their workers are appropriately trained, in order to work safely.
What is asbestos?
Asbestos. You may of heard of it. Long ago it was once referred to as a 'magic mineral'. Yet it is now known as a dangerous substance which can cause serious health implications.
Asbestos is a term for a group of minerals made up of microscopic fibres. Before its dangers were discovered, asbestos was used for installations in buildings, flooring and roofing – it was also sprayed on ceilings and walls. However due to the various and significant health implications asbestos can cause when exposed, it was banned in the UK in 1999. This means you can not import, supply or use asbestos in the UK.
How can asbestos be dangerous?
Asbestos can only be dangerous when fibres enter the body via breathing. Materials containing asbestos are not generally considered to be harmful, unless it is releasing dust or fibres into the air where they can be inhaled or ingested. This is why there is a particular focus on members of the construction industry, as construction trades are those most likely to be drilling and demolishing – releasing dust and fibres into the air that are easily inhaled. If asbestos fibres are trapped into the body, it is the fibres which can cause health problems.
Do I need to be worried about asbestos?
The HSE (Health and Safety Executive) states that every employer must make sure that 'anyone who is liable to disturb asbestos during their normal work, or who supervises those employees, gets the correct level of information, instruction and training so that they can work safely and competently without risk to themselves or others'. As asbestos was used in a lot of building materials up until it's ban in 1999, if you work in the construction industry you are likely to come across it or a situation where a material may contain asbestos. Being able to recognise asbestos-containing materials and know what to do if you come across them is essential to keeping yourself and others protected. The level of information, instruction and training you need should be appropriate for the type of work you do and your role at work.
Occupations that are likely to come across asbestos-containing materials in their line like of work and will need training for asbestos awareness are listed below:
General maintenance workers
Electricians
Plumbers
Joiners
Painters and decorators
Plasterers
Construction workers
Roofers
Shop fitters
Gas fitters
Heating and ventilation engineers
Demolition workers
Telecommunication engineers
Fire/burglar alarm installers
Computer and data installers
Architects
Building surveyors
This list has been taken from the HSE website., There are other jobs where asbestos may be disturbed in addition to the ones listed above.
Why is it important to take asbestos awareness training?
These courses are designed to ensure you recognise the dangers of asbestos and are aware of the regulations associated with and directly connected to asbestos. These include the Control of Asbestos Regulations, along with the Health and Safety at Work Act 1974.
If you are working on a building which was built prior to the year 2000, asbestos could be present. Therefore, it is essential you're aware of the necessary information to keep yourself and others safe.
Here at Project Skills Solutions, we run a half day training course on asbestos awareness, aimed for anyone working in an environment where they may encounter asbestos. We also offer a Smart Awards SA007 – Asbestos Awareness Specification.
As mentioned previously, asbestos can be found in:
Air handling systems (lagging and gaskets etc)

Walls both inside and outside

Roofs

Ceilings

Boilers and pipework
If you're working with any of these, which could mean you could come into contact with an asbestos-containing material – it is important to attend an asbestos awareness training course. In fact, most local authorities and contractors will require some formal asbestos awareness training in order to work for them.
'Asbestos and You' HSE campaign
According to the HSE, 5000 people still die every year with an asbestos-related illness. Their latest campaign, 'Asbestos and You' is aimed at millennials and gen Z in the construction industry. This generation would have started their careers after the ban in 1999. As asbestos-related illnesses take a long time to show any symptoms, the HSE are concerned that there is a perception amongst the younger generation that asbestos only impacts those who are older, working before asbestos was banned in the UK.
The truth is that asbestos can still be found in buildings built or refurbished before the year 2000. A report by The Mesothelioma Center stated that an estimated 1.5 million buildings in the UK contain asbestos (including schools and hospitals). Therefore it is still a subject that construction workers should undertake appropriate training for.
"Asbestos exposure in Great Britain is still the single greatest cause of work-related deaths… Everyone working in construction today, of any age, must take the risk from asbestos seriously."
HSE's Chief Executive, Sarah Albon